Електронен вестник
Dormitory American College Arcus®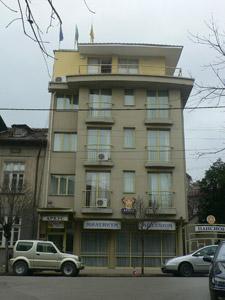 The dormitory is situated in a central but quiet area of the town. The building is in Tsanko Tserkovski Street, in the very centre of Veliko Tarnovo with a spectacular view of the famous Arbanassi village. It is a four-storey building. On each floor there are six rooms, on the second floor there is a new two-floor extension consisting of seven rooms. There are twenty-nine rooms in total, ten of these are single rooms- a large bedroom with a desk, Cable TV, Internet, a bedside cabinet, a wardrobe, mirrors and a telephone.
The section combines luxury and comfort, guaranteeing a high standard of accommodation.
19 of the rooms are en-suite twin rooms with central heating, air conditioning, T.V, a fridge, telephone, a desk and a bedside cabinet.
The dormitory aims to create a homely atmosphere with all comforts. It provides a caring and well-qualified personnel.
I lived in Polski Trumbesh before I came to this school; I lived there with my family. I have been studying in The American College Arcus for five months now and I live in the hostel 'Hotel Millenium' which is in the town centre.
I share a room with one boy from Razgrad, his father is the mayor of Razgrad. In our room there is a television, two beds, two wardrobes, an air conditioner, internet.
In 'Hotel Millenium' there are five security men who change shifts twice a day, the manager of the hotel is Mrs Ganeva. It's very cool in the hotel because there are lots of us and we all go to the same school. When somebody doesn't understand a homework there's always somebody to help.
The nightlife in Veliko Tarnovo is very good but I can't see it because we must be in the hotel by 9.30 pm. In the evening I do my homework, watch TV and play on the computer. We usually eat in the 'Tempo' pizzeria or we go to CBA or eat Doner kebabs at Jo's. I like the shops in Veliko Tarnovo and the mall. Another place I like is The Ivailo Stadium where I have played football for 'Yantra Polski Trumbesh FC'. Life in Tarnovo is cool because you're independent but it can be sad because you're away from your family and hometown.
Anatoly Angelov 8 B
(Polski Trumbesh)
My hometown is the capital of Bulgaria, Sofia. The 'Millenium Hotel' and Veliko Tarnovo are my second home. I like Veliko Tarnovo because the people here are very friendly.
The Hotel is not very big. There are two cleaners and four caretakers and the manager of the hotel is Yanka Ganeva. The thing I like most in the hotel is my friends. I like everything in the hotel. It was very easy for me to get used to living away from home because my mother and father work a lot and travel all over the world.
In the evenings I often go to play billiards in 'Mystik' with people from my class and we go to eat in restaurants such as 'Ego' or 'Lascala'. I start school at eight o'clock, so in the morning I don't have time to have breakfast and I eat at school. The advantages of living away from home are that you're independent and alone, the disadvantages are only that I can't see my sisters everyday.
Gregory Kostov 8B (Sofia)
Now I live in Veliko Tarnovo and I study at The American College Arcus, some of the older teenagers here live alone in flats, I live in Hotel Millenium which is near the college. There are about fifty of us in the hotel and it's great!
I live with my classmate Viktoria who is from Gabrovo. Sometimes I think the rules in the hotel are very strict but I realize that there needs to be rules. There are cameras in the corridors and we must be back at the hotel before 2130. I like living there because everybody knows one another.
It was easy for me to get used to living away from home because I've always been independent. Tarnovo is a very interesting town unlike my hometown Troyan. With my friends we often go to the mall; cinema, shopping or we just go to one of the cafйs.
The disadvantages of living away from home are that your parents are always worried about you. I've told my mum that there isn't any point in worrying about me!
The advantages are greater than the disadvantages, you become independent and responsible, you get a good education and you change as a person.